Bryce Canyon and Cedar Breaks Make for an Amazing Day Trip
The 129 mile drive from Lava Falls At Entrada in St. George to Bryce Canyon National Park makes for a beautiful day trip outing.
Frequently when we head over to enjoy a day at Bryce Canyon, we stop at Cedar Breaks National Monument which is right along the way. Taking the Cedar Breaks route offers a scenic mountain drive and if it happens to be the summer or fall, you'll be in for an extra special treat!
The summer wildflowers are breathtaking and the park holds a stunning wildflower festival each July with activities and nature walks that have become one of our family's favorite traditions.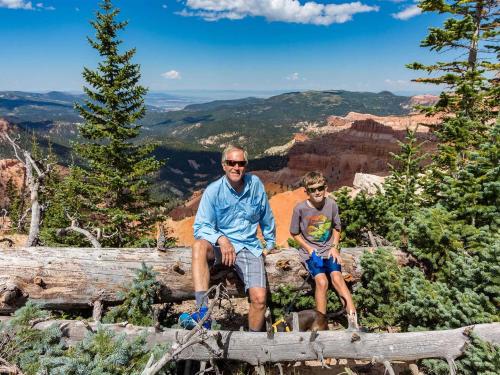 In Autumn, the foliage on Highways #14 and #143 are breathtaking. In fact, Hwy #143 is a Utah "scenic byway" and one of our favorite drives in the fall. The foliage on the Aspens and other deciduous trees native to Utah is beautiful! There are black lava beds everywhere when you get on down Hwy 143 making for interesting topography.
This photo was taken in late summer at an overlook at Cedar Breaks.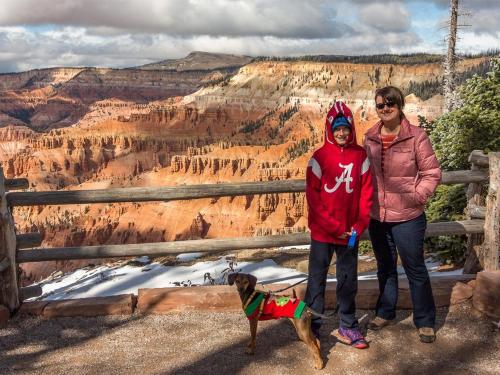 Leaving from St. George, we like to take the I-15 north and then take exit 57 in Cedar City. Follow that to UT. Hwy #14 east up to the Cedar Breaks National Monument sign (about 20 miles). Make a left going north about 5 miles to the Cedar Breaks National Monument. After spending some time there, we make a left out of the parking lot, again heading north a couple of miles until you get to the UT. Hwy #143 and make a right. Take that all the way to US-#89 in Kane County. Follow that road until you see signs for Bryce Canyon National Park.
Another shot of the Cedar Breaks overlook in early fall.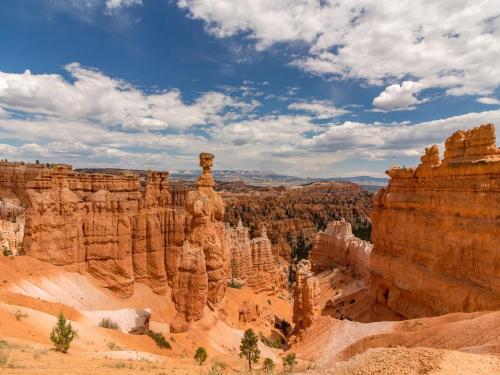 Bryce Canyon is known for it's crimson colored hoodoos which are spire shaped rock formations. The hoodoos are formed when the rain water seeps into the cracks in the rock, then the water freezes during cold nights causing the rock to expand and break apart.
At 8,000 to 9,000' altitude, Bryce Canyon is usually much cooler in the summer months than St. George averaging 83 daytime temperatures and 43 at night. This makes it a perfect area to hike and explore when it's super warm in St. George. The canyon frequently gets snow during the winter months making for stunning scenery with all of the contrasting colors!
We always get asked which canyon is our favorite of the two, Bryce or Zion. It's impossible for us to say because they are both so different. When you are in
Zion Canyon
, you are looking up at the steep red rock walls. There aren't a lot of hoodoos in Zion either. When you visit Bryce, you are looking down into the canyon. Both canyons are stunning and you have to see them in person to believe it!